Myrtleford Golden Spurs Rodeo
Notice for 2023 Rodeo
LIONS Club of Myrtleford are please to advise they are busy planning the 68th Myrtleford Golden Spurs Rodeo on Boxing Day. 
After being forced to stop the 2022 Myrtleford Golden Spurs Rodeo midway through the evening session due to poor weather, we are determined to complete our 2023 APRA Hall of Fame rodeo this year.  Our town needs it, our sponsors need it, and our rodeo fans and visitors are keen to get amongst the exciting live action of Rodeo here in Myrtleford. Once again Rodeo Sock Contractor Happy Gill and sons are providing the stock for this year's Rodeo. This year's Bull Ride Chute out has jackpotted to $8000 winner take all, this will be hotly contested by Australia's very best bull riders.
Despite the rodeo being run entirely by volunteers (which sadly there not making many anymore), we have needed to put our ticket prices up this year by $5.00 across the board for entry to cover the additional costs of the contractors we engage to work on what is a public holiday.  We ask that you accept this cheerfully and know that any profits made are being donated to Lions Programs and directly into our local community. 
This financial year the Lions Club of Myrtleford has made over $10,000 donations to local and Australian Lions Projects, these donations are passed directly to people and communities in need.   
Lion Ben Browne
President
Myrtleford Lions Golden Spurs Rodeo Committee
Entry
Adults   $35
Teenagers   $25 (13yr to 17 yr)
Children   $15 ( 6yr to 12 yr)
(under 6 years free)
Family  $85 (2 A + 2 C)
Limited EFTPOS Available (no cash out) Registrations, Entry and Bar Sales
Please note: Rodeo run entirely by volunteers with all proceeds donated back to the  community
Rodeo Program

A copy of the rodeo program will be provided free of charge at the gate and will be available online in December once the cowboy registrations are finalised.
Myrtleford is located 273km northeast of Melbourne and only 50km from Hume Freeway and has held the Myrtleford Golden Spurs Rodeo on Boxing Day since 1954. The town, positioned in the northern foothills of the Mt Buffalo Range, serves as a gateway to Mt Buffalo National Park and its popular ski resorts.
The Myrtleford Golden Spurs Rodeo is the second longest running Victorian rodeo and the first of the summer circuit. Myrtleford is regarded as having one of the most spectacular rodeo arenas in Australia. The Stockman's Hall of Fame in Longreach displays photos of the Myrtleford Rodeo and recognises its place in the history of rodeos in Australia.
There is a strictly enforced no BYO alcohol or glass policy.
Patrons should note that  dogs are NOT permitted in the controlled Rodeo viewing area because of possible litigation, i.e. past our entrance gate
Gates open at 11.00am for the lead up events with the main program running from 4.00pm to 11.00p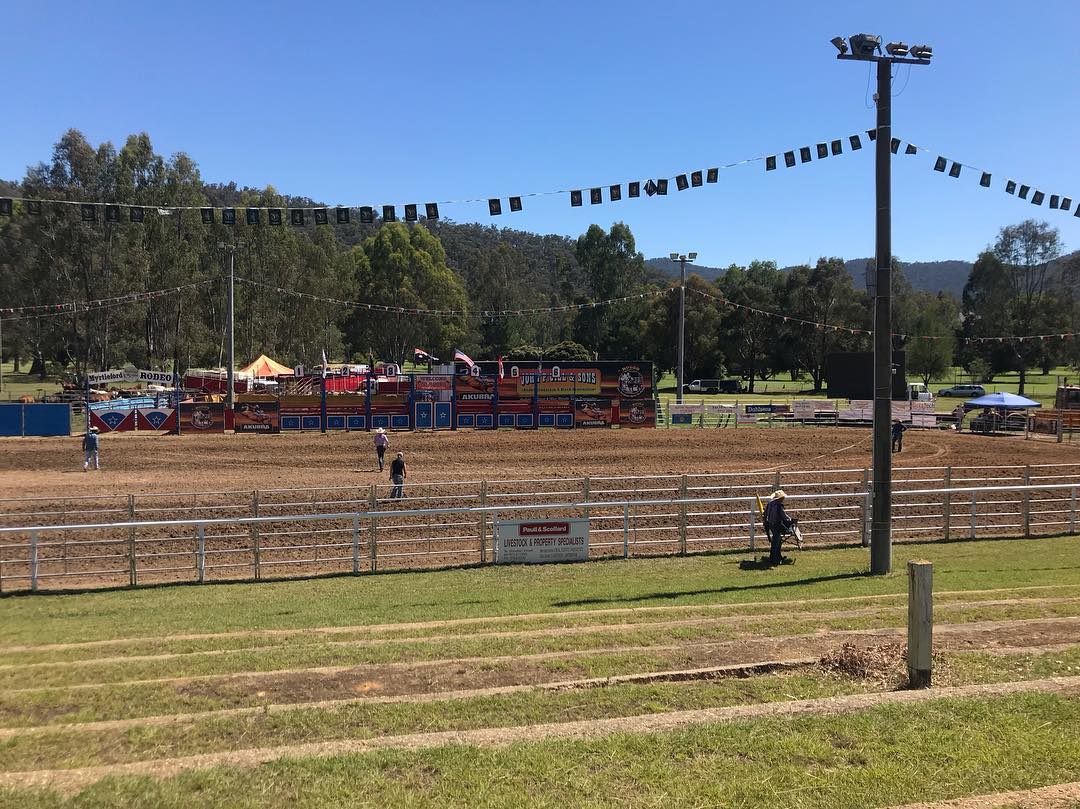 Myrtleford Rodeo
Rodeo is conducted at the Myrtleford Showgrounds in a natural amphitheatre and there is plenty of room for everyone to see and be part of the action. Big screen replays ensure you won't miss out on a thing.
Rodeo is fully catered and there is a strict no BYO alcohol or glass policy, with all eskies inspected by security on arrival. Patrons are urged to bring their own chair, warm jacket or blanket for the late evening. Pass outs available to get these items from your car.
What to Bring
A chair to sit on
A hat and sunscreen
A camera
Blankets for later in the night.
A designated driver.
Note: All eskys and bags will be inspected at the gate by contracted security for BYO alcohol and glass.
Pass outs are available for you to collect items from your car.
Catering
Full catering is available onsite with
Myrtleford Football and Netball Club BBQ
Woodfire Pizza
Normal Rodeo Fare: Pluto Pups, Hot Chips, Dim Sims, Ice creams, etc.
Kids
Some sideshows onsite
Cowboy and rodeo merchandise for sale.